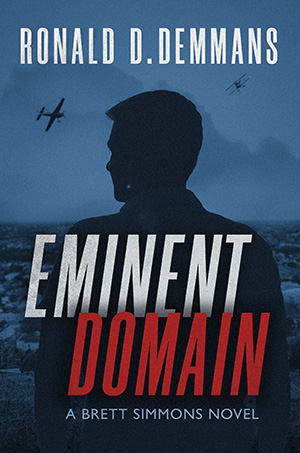 Brett Simmons—a brash, wise-cracking, unapologetic lawyer—has seen too much.

What he has uncovered could cost him everything: his career, his freedom, even his life.
Praise for Eminent Domain
"Shot through with wry humor and small-town politics… an engaging read."
—John Ryder, author of the Grant Fletcher thriller series
"A crackerjack read, very satisfying as a novel with its exciting twists and turns, yet at the same time insightful and funny as author Ronald D. Demmans shrewdly examines politics at the local level—a topic that resonates for many."
—Eric Wilson, author of Murder on the Canadian
Now Available!
Eminent Domain is available in trade paperback and ebook:
Bookshop.org Amazon (US) Amazon (CA) Apple Books Barnes & Noble Books-A-Million Google Play Kobo Target Walmart
Eminent Domain is published by Indigo River Publishing (distributed by Simon & Schuster).
Keep up with Ron by subscribing to his newsletter!
Now Available for Pre-Order!