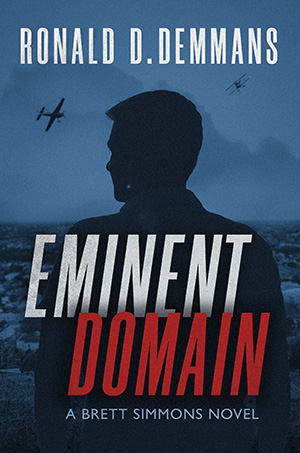 Brett Simmons' life was in danger. They wouldn't hesitate to kill him. After all, one body was already chilling in the morgue. If he had only left well enough alone, he would be doing the simple, mundane things that a small-town lawyer does. Driven by his fervent sense of integrity and naively unaware of the risks, he had taken a look behind the curtain and now he knew too much.
Lenore was Brett's town. Despite a penchant for wisecracking repartee, he was fiercely loyal to Lenore's history and intensely concerned about its future. Not only could he not conceal his disdain for Mayor Warren Winfield, more than anything else, he couldn't trust him. With Winfield's enigmatic expropriation of 8 properties on Hwy 81, under the guise of Eminent Domain, Brett suspected it was more than a simple land seizure. He was right.
What Brett uncovered would entangle him in a maze of lies, deceit and murder. Winfield was just the front man for a multi-billion-dollar international criminal organization, intent on turning Lenore into its base of operations. Brett was in over his head and he knew it.
With only one option, he turned to his friend, Clay Bonner, Chief Investigator for the Attorney-General's office. Clay would send his most experienced agent to Lenore. Brett found himself partnered with a tall, auburn-haired, tough as nails cop named Melanie Stockton. The rapport was instant and the peril facing them seemed to draw them closer together. With Brett going undercover and Melanie forced to confront a well-armed band of mercenaries, their unexpected feelings for each other would have to wait. And the waiting could take forever.
This is Brett Simmons' story, and only he can tell it.
Buy the book:
Bookshop.org Amazon (US) Amazon (CA) Apple Books Barnes & Noble Books-A-Million Google Play Kobo Target Walmart
Praise for Eminent Domain
"Ron Demmans has conjured up a town full of characters that you'll long remember even if they are all slightly bent. Life, love and down low dirty politics leave you wanting more. It's like looking through someone's window and getting more than you expected. All of the characters leave a lot to be desired… and maybe that's the whole point. Escape into the land of bad manners, shady politics and surprises galore. I loved it. Move over, Raymond Chandler, there's a new storyteller in town!"
—Dave Charles, Global Strategist, Media Results, Inc., Toronto
"Suspense, crime and romance all bundled together in one fabulous book! A riveting story with an intriguing plot that keeps you perched on the edge of your seat! Ron Demmans description and characterization of the main personalities are written with precision and wit. A must read!"
—Kathy Sherban, Poet and Author of Accidental Poetess